For whom the bell tolls errata

This is not strictly errata, but rather a compendium of questions and answers from Aurthur Goodwin, the game's designer. For ease of reading and use, the file will be split up onto multiple pages.

---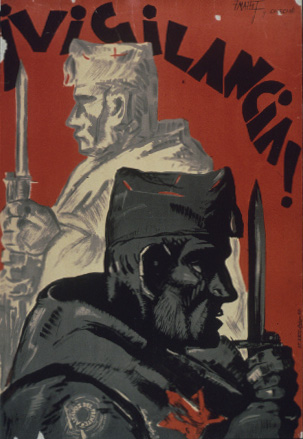 Aguilas is not an Andalucian city, but rather a Murcian city.
AEG: YES, AGUILAS IS A MURCIAN CITY. I WAS AWARE OF THIS AND CONSIDERED MOVING THE BORDER WESTWARD, BUT FINALLY DECIDED NOT TO SINCE THE OVERWHELMING MAJORITY OF THE HEX WAS ANDALUCIAN AND IT HAD NO EFFECT ON THE GAME (AGUILAS IS ON THE PLAIN REPRESENTED BY THE CLEAR TERRAIN, BUT ON THE
EXTREME EASTERN EDGE.)
Of Minor Import, probably not worth mentioning in errata: Oviedo (23A:1007) is mispelled on the map as Oveido.
Insurgent OB says Calatayud (23A:2702). Map says Calatyud. Which is right?
AEG: CALATAYUD.
Insurgent OB says Alcazarquivar (23A:4131). Map says Alcazarquivir. Which is right?
AEG: ALCAZARQUIVIR.
Insurgent OB says Sanlucar de Barramdeda (23A:3328). Map says Sanlucar de Barrameda. Which is right?
AEG: SANLUCAR DE BARRAMEDA.
Why did Castellon de la Plana, a fair-sized city and important port, not rate reference city status?
AEG: ITS POPULATION WAS BELOW THE CUTOFF (40,000) NEEDED TO RATE REFERENCE CITY STATUS.
There seems to be several counters used neither in the Europa OB nor in the Civil War scenarios:
Insurgent/Spanish:
1x 3-8 Cav X Mar (Col)
1x 3-6* Inf III Tdl (Col)
1x 1-8 Lt Arm II S
2x 0-1-6 Inf II I/TdI, IV/TdI (Col)
AEG: PLAYERS MAY SUBSTITUTE THE 3-8 CAV X MAR (COL) FOR THE TWO 2-1-8 CAV III 1E AND 20 (COL) AT ANY TIME DURING WWII SCENARIOS. THE TWO 0-1-6 INF II I/TDI AND IV/TDI (COL) SHOULD BE SPANISH NEUTRALITY WATCH UNITS ON THE ISLANDS OF GRAN CANARIA AND TENERIFE, RESPECTIVELY. PLAYERS MAY SUBSTITUTE THE 3-6* INF III TDI (COL) FOR THE 2-6* INF III TDI (COL) AND THE TWO 0-1-6 INF II I/TDI, IV/TDI (COL). THE 1-8 LT ARM II S SHOULD HAVE BEEN DELETED FROM THE COUNTERMIX.
Europa Orders of Battle Operation Felix & Invasion of Spain
Scenarios, German Forces:
The 7-6 Inf XX Pol (SS) is included in the countermix, but not in the OB. Intentional? Note that the abbreviation for Pol also does not appear in the names and abbreviations list.

AEG: THIS SHOULD HAVE BEEN PART OF THE MAR II 41 GERMAN REINFORCEMENTS.
Rules for the World War II Scenarios (Rule 38B2) First item in list, last sentence: The Allied player (... something is missing).

AEG: JUST DELETE THE ENDING PARTIAL SENTENCE.
Operation Felix & Invasion of Spain Scenarios, British
Forces: Conditional Reinforcements, Iberian Peninsula becomes a Theater of War: In the requirements, should 'units' instead be 'forces'? As the conditions stand the Axis player can send air units to the south of Spain and attack allied shipping to Gibraltar without the Allied player gaining these additional reinforcements.
AEG: RULE IS CORRECT AS WRITTEN. AIR ATTACK ALONE DOES NOT TRIGGER THE ADDITIONAL REINFORCEMENTS. THE ROCK WAS BOMBED SEVERAL TIMES HISTORICALLY WITHOUT ANY ADDITIONAL BRITISH UNITS BEING SENT THERE. NOTE THAT THIS IS LABELLED "IBERIAN PENINUSLA BECOMES A THEATER OF WAR", NOT "GIBRALTAR BECOMES A THEATER OF WAR".
Hard Questions 1> Variable revolt: The main hex of Madrid went over to the insurgents (a gasp from the loyalist player), which left us in a quandry. What happens to the government? We ended up treating it as if the government had been overrun, and used the standard rule to determine if it was captured (it was). Did we do right, or should the loyalist player be given a break by allowing an automatic and penalty-free relocation?
AEG: THIS IS RIGHT BY THE RULES. IF YOU DO NOT WANT TO CONTINUE PLAYING OUT WHAT IS PROBABLY A HOPELESS CAUSE FOR THE LOYALISTS, RESET THE GAME. PERSONALLY, I WOULD PLAY THE LOYALISTS OUT AS I ENJOY A CHALLENGE, EVEN ONE I'LL PROBABLY LOSE. I WOULD ALSO ARGUE THAT THIS IS NOT ALL THAT IMPROBABLE. MANY, MANY COUPS AGAINST GOVERNMENTS HAVE SUCCEEDED IN AVERTING (OR AT LEAST SHORTENING) CIVIL WARS. WHY SHOULD IT NOT BE IN THE REALM OF POSSIBILITY FOR THE NATIONLISTS TO HAVE SUCCEEDED FROM THE START?
2> Rail capacity: The current rules are durned confusing. Instead of separating out different rail-nets in Spain, which seems to apply for the fixed-setup only, we did the following: the number of dot and major cities determine connected by contigous, friendly rail-lines determines the number of REs which can use rail-transport on those rail-hexes ONLY. Note that this can (and will) change from turn to turn, with some "rail-nets" getting broken up or increasing in size and capacity as hexes are taken and cities fall.
AEG: ADVANCED RULE 43.C.2 "ISOLATED SECTIONS OF A RAIL NET" SAYS JUST THIS.
4> If loyalists no longer have two cities (and one port) connected by rail anywhere in Spain, are special supply sources eliminated? The Gobernitos as well?
AEG: HUH? THERE ARE FULL AND LIMITED GENERAL SUPPLY SOURCES IN THE GAME, BUT NOT SPECIAL SUPPLY SOURCES. RULE 12 ALSO DEFINES GENERAL SUPPLY SOURCES IN TERMS OF THREE (NOT TWO) CONNECTED CITIES.
Questions 1) Gobernito Garrisons- If the Insurgent player takes actions which activate the Gobernito garrison, does the release a) apply only to units currently in garrison, with future additions being placed in the garrison box; or b) apply to all current and future garrison forces, with all reinforcements being placed immediately on the board? In other words, if the Insurgent player attacks in Asturias on Aug I 36 when there are no units in garrsion, are the units assigned to the garrison on Aug II placed in garrison or are they released immediately?
AEG: IN THE SPANISH CIVIL WAR A GARRISON IS EITHER RELEASED OR IT IS NOT. ONCE YOU MEET THE CONDITIONS FOR ITS RELEASE (PER THE CONDITIONAL REINFORCEMENTS SECTION OF THE LOYALIST OB) IT IS RELEASED AND STAYS RELEASED FOR THE REMAINDER OF THE GAME. NEW UNITS LISTED IN THE OB AS BEING ADDED TO THE RELEASED GARRISON ARE THEREFORE ALSO IMMEDIATELY RELEASED FROM THE GARRISON. I THINK THE CONFUSION HERE COMES FROM THE FACT THAT THE WWII SCENARIO RULES HANDLE THIS DIFFERENTLY. THERE PARAGRAPH 3 OF RULE 37.B (GARRISONS) APPLIES. THE NEW UNITS WOULD GO INTO GARRISON AS SPECIFIED IN THE OB, BUT THE PLAYER COULD ACTIVATE THEM IN ANY INITIAL PHASE (INCLUDING THE INITIAL PHASE IN WHICH THEY ARE GO INTO THE GARRISON) SO LONG AS THE REQUIREMENTS FOR THE GARRISON'S ACTIVATION WERE STILL MET.
2) Factory Production- If a factory produces 1 step of supply/resource point in a given cycle, does the factory produce a) 1 step of attack supply or 1 resource point; or b) 1 step of attack supply and 1 resource point?
AEG: I THINK THIS QUESTION ASSUMES THAT THE "SUPPLY" COLUMN ON THE "FACTORY PRODUCTION CHART" REFERS TO BOTH STEPS OF ATTACK SUPPLY AND RESOURCE POINTS. IT DOES NOT; IT REFERS ONLY TO STEPS OF ATTACK SUPPLY. THE "PRODUCTION" SECTIONS OF THE LOYALIST AND INSURGENT OBS CLEARLY STATES THAT EACH FRIENDLY-OWNED FACTORY IN PRODUCTION PRODUCES 1 RESOURCE POINT ON THE FIRST TURN OF EVERY EVEN-NUMBERED MONTH IN ADDITION TO THE STEPS OF SUPPLY. THIS SEEMS TO BE CONFUSING TO A NUMBER OF PEOPLE, HOWEVER, SO PROBABLY BEST TO JUST NOTE IN ERRATA THAT THE FACTORY PRODUCTION CHART SHOULD HAVE ANOTHER NOTE AT BOTTOM TO THE EFFECT THAT EACH FACTORY ALSO PRODUCES 1 RESOURCE POINT EACH TIME PRODUCTION IS RECEIVED. ALSO, CHART WOULD BE CLEARER IF NOTED THAT 'STEPS OF SUPPLY' ACTUALLY REFER TO 'STEPS OF ATTACK SUPPLY'.
In FWTBT, what is the mechanic for putting a unit in attack supply for overrun purposes?
Rule 13 is silent on the issue, other than to say that supply counts as normal (i.e., as in regular combat) and Rule 12D says that steps of attack supply are removed at the end of the combat phase in which they have been used. Does this mean that units can draw attack supply for overrun purposes without expending the step?
Overruns-It seems to exist a problem between the overrun and attack supply rules. The overrun rules specify that all supply status enters in the calculations of the ratio, but the rules regarding the attack supply seems to indicate that it is used only in the combat phase. So, a) Does a unit need attack supply to overrun at full attack potential?
b) If yes, is this attack supply used and taken out of the map, can it be used again in the combat phase normally, or can be used only what was left of the 6 re capacity?

AEG: OVERRUNS, EVEN IN THE DESERT EUROPA GAMES, HAVE NEVER HAD ANYTHING TO DO WITH ATTACK SUPPLY. CLEAR UP ALL THE CONFUSION BY ADDING ONE SENTENCE TO FIRST PARAGRAPH OF RULE 13 (OVERRUNS) AS FOLLOWS: "THE OVERRUN STRENGTH OF A UNIT IS THE UNIT'S ATTACK STRENGTH AS MODIFIED BY ITS GENERAL SUPPLY CONDITION (SEE RULE 12.E, SUPPLY EFFECTS)."
Intrinsic Garrisons Q: Since the Loyalist garrisons belong to the PA affiliation, is the militia roll modified if there are Anarchist units in the city?
AEG: YES, THE MILITIA RELIABILITY CHECK DIE ROLL SHOULD BE AFFECTED.
Q: If garrison is forced to disperse in one turn and the city becomes enemy-owned due to advance after combat, may the garrison become undispersed in later turns after the next initial player turn if the city is unoccupied but not yet pacified by the enemy player?
AEG: NO. IN EFFECT A DISPERSED GARRISON IS ELIMINATED ONCE ITS CITY BECOMES ENEMY-OWNED. HOWEVER, PER PARAGRAPH 2 OF 39.D, IF THE CITY SUBSEQUENTLY BECOMES FRIENDLY-OWNED AND PACIFIED ONCE AGAIN, THEN A NEW INTRINSIC GARRISON IS ESTABLISHED.

Pacification Q: We need clarification of the role of unpacified cities. For example, undefended point cities are entered and occupied. In subsequent turns, the garrison leaves before pacification is complete. Supply may not be drawn through the hex, but can units still rail through? and is the hex still considered friendly owned to the last occupier? and are these rules applicable to other cities as well, assuming the intrinsic garrison cannot become undispersed?
AEG: PER THE LAST PARAGRAPH OF RULE 39.A (PACIFICATION), THE ONLY EFFECT A FRIENDLY-OWNED UNPACIFIED CITY HAS IS THAT A SUPPLY LINE MAY NOT BE TRACED THROUGH IT UNLESS THE CITY HAS ITS REQUIRED GARRISON. YES, YOU MAY RAIL THROUGH THE HEX; AND, YES, IT REMAINS FRIENDLY-OWNED TO THE LAST OCCUPIER.
Reinforcements and Replacements Q: When "any city" is specified may this also be an isolated city? and does the no more than one unit per turn count for replacements and other specified reinforcements? For example, can one unit enter a city from the "any city" portion, another enter the same city from a "specified hex", and finally another that is replaced? Also, does this count for excess units? For example, the Asturias garrison is released but only one or two replacement cities are available so only one or two units out of many can enter?
A: Yes the city may be isolated. No, replacements & specified hexes do not count against this limit. Finally, the rule as submitted was worded such that only one "any city" unit could be placed per hex UNTIL all such city hexes had been covered, thus the units in particular can pile in (keep in mind that the Basques begin the game with two such replacement cities - Bilbao & San Sebastian - and the Asturians can also potentially have two should they capture Oviedo). (JAM)
AEG: AGREE. I DELETED THE PART ABOUT TWO UNITS PER CITY AFTER ALL CITIES HAD ONE UNIT BECAUSE IT DIDN'T SEEM TO MATTER IN THE PLAYTESTS I SAW. IT OCCASIONALLY KEPT OUT A SINGLE BASQUE OR ASTURIAN UNIT FOR ONE TURN, BUT THAT WAS ALL. NOTE THAT RULE 40.A.3 SAYS THAT UNITS RELEASED FROM A GOBERNITO GARRISON ARE RECEIVED "AS A REINFORCEMENT IN THAT GOBERNITO'S REGION." I NOW SEE THAT MAY HAVE NOT BEEN CLEAR ENOUGH, IT SHOULD HAVE SAID "AS A REINFORCEMNT IN ANY FRIENDLY-OWNED HEXES IN THAT GOBERNITO'S REGION."
Q: When a replacement city becomes isolated can RPs from the general pool be specified at that city. For instance, if Madrid is isolated, can the Loyalist player specify that a number of Inf and Art RPs are in the pocket at Madrid or must they stay in the general pool?
A:Theoretically, the isolated replacement city's pool starts at zero, though if you have accrued replacements in the general pool & can convince your opponent of the efficacy of dedicating some of these to it (you have my sympathy) on the player turn following isolation, you are of course free to do so. Note that an early playtest version tracked replacements in a much more discrete/geographically fixed manner than the current system - again, madness... (JAM)
AEG: AGREE.
Other General Questions Q: It is stated that MPs cannot be used when a unit is a pacification garrision which seems to disallow engineer construction abilities. Can an engineer both pacify and build a fort which (does not explicitly use MPs?
A: No (presume you're referring to combat engineers; i.e., those with an attack factor), they're theoretically intimidating/educating the population with their rifles, not their shovels. (JAM)
AEG: AGREE WITH JAM ALTHOUGH TECHNICALLY RULES DO NOT DISALLOW THIS SINCE ONLY RESTRICTION IS THAT YOU CANNOT SPEND MPS. AND I COULD PROBABLY BE CONVINCED BY AN OPPONENT THAT HIS ENGINEERS WERE BRUTALLY PACIFICYING THE POPULATION THROUGH THE PROCESS OF FORCING THEM TO BUILD THE FIELD WORKS
FOR THE FORT (AND SHOOTING EVERYONE WHO WAS LESS THAN ENTHUSIASTIC IN DOING SO).
Q: Can you use the coastal waters protection when going between two non-contiguous coasts for example, when going from Europe to Africa.
AEG: YES, AS THE RULE IS WRITTEN. HOWEVER, THIS DOESN'T COVER STRAITS SUCH AS GIBRALTAR VERY WELL SINCE A TASKFORCE PARKED IN THE STRAIT SHOULD BE ABLE TO INTERDICT ALL MOVEMENT ACROSS IT. FIX THIS BY REVISING THE INTRODUCTION TO RULE 34.A.1 AS FOLLOWS:
"CARGO AND SUBMARINE NAVAL GROUPS (ONLY) MAY USE PROTECTED, INSHORE WATERS TO SCREEN THEIR MOVEMENT FROM ENEMY NAVAL UNITS. EACH FRIENDLY-OWNED COASTAL HEX IS A PROTECTED WATERS HEX. EXCEPTION: A FRIENDLY-OWNED COASTAL HEX IS NOT A PROTECTED WATERS HEX IF THE NAVAL GROUP ENTERS THE HEX BY CROSSING AN ALL-SEA HEXSIDE."
EXAMPLE: A CARGO NAVAL GROUP MOVES FROM MELILLA (23A:4822) TO ALGECIRAS (23A:3825), MOVING ALONG THE COAST THROUGH FRIENDLY-OWNED HEXES. FROM MELILLA TO HEX 3928 MOVEMENT IS THROUGH PROTECTED WATERS. HOWEVER, THE MOVEMENT FROM HEX 3928 TO ALGECIRAS IS MADE BY CROSSING AN ALL-SEA HEXSIDE SO WHEN THE ALGECIRAS HEX IS ENTERED PROTECTED WATERS DO NOT APPLY. IF THE NAVAL GROUP WERE THEN TO CONTINUE MOVING THROUGH FRIENDLY-OWNED COASTAL HEXES TO CADIZ (23A:3428) PROTECTED WATERS WOULD AGAIN APPLY.
Q: When using the optional rule (AEG: THIS IS AN ADVANCED RULE, 43.C.2) treating separate rail nets, a resource point spent for temporary increase must be spent on the net that uses the excess rail even if the two are later connected? For example, an enemy unit has moved onto the rail which disconnects two nets. Now each have four RE capacity. If 5 REs rail are used in order to help overrun the enemy unt from ne rail net. The resource point must be spent from that net and the max increase is only 2 REs? Not 4 REs for the now connected 8 RE net since 5 REs which is over the capacity of the first net is over limit? Of course two resource points could be spent to increase each by 2?
In a different example, the enemy unit doesn't stay on the rail. In order, for only one point to be spent, the player must first regain possession and reconnect the rail?
A: As submitted, resource points were spent during the initial phase to temporarily increase rail capacity, therefore my answer would be no. However, reading the current rule (on demand rail cap increases?), it appears that if you perform your overruns/resource point expenditures in the proper order, you can link before spending & get up to 10 REs added to your now reunited rail net. Note in your example that if you spend 1 resource point on one of your 4 RE railnets (in order to get together the overrunning force), that railnet would have been increased to 8 REs (an increase = of 4 REs, not 2 REs) and any srplus could theoretically be applied to the now reunited rail net. Is this an answer? (JAM)
AEG: I CHANGED RP EXPENDIURE FOR RAIL CAPACITY INCREASES SO IT MATCHED THE SECOND FRONT RULE. ASTELL CHANGED THIS IN SECOND FRONT IN RESPONSE TO THE FACT THAT MOST PLAYERS SPENT RPS FOR RAIL CAPACITY INCREASE AS THEY MOVED INSTEAD OF DURING THE INITIAL PHASE, NO MATTER WHAT THE RULE SAID AND, AS IT SEEMED TO MAKE NO DIFFERENCE WHEN YOU DID IT, WHY NOT MAKE THE RULES MATCH PLAYER PRACTICE. (THE NET EFFECT IN SECOND FRONT WAS TO MAKE THINGS EASIER FOR PLAYERS SINCE THEY DIDN'T HAVE TO PLAN OUT ALL THEIR RAIL MOVEMENT BEFORE MOVING ANYTHING.) OF COURSE, THIS COMPLICATES THINGS WHEN YOU HAVE FRAGMENTED RAIL NETS.
AS THE RULE IS NOW WRITTEN IT IS ENTIRELY A MATTER OF WHAT SEQUENCE YOU ARRANGE THINGS TO HAPPEN. SPEND THE RP FOR RAIL CAPACITY INCREASE BEFORE YOU UNITE THE TWO SECTIONS OF THE NET AND THE CAPACITY INCREASE WILL BE BASED ONLY ON THE CURRENT CAPACITY OF THE FRAGMENT OF THE NET ON WHICH THE RP IS SPENT. SPEND THE RP AFTER THE TWO SECTIONS ARE JOINED AND THE CAPACITY INCREASED IS BASED ON SUM OF THE TWO SECTIONS. YES, THIS MAKES PLANNING (OPTIMUM PLANNING ANYWAY) MORE DIFFICULT, BUT IT DOES REWARD GOOD STAFF WORK.